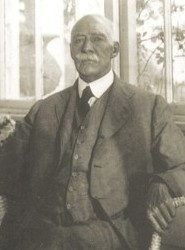 PERSISTENCE
AN IRON WILL
A Leadership Series for Successful Living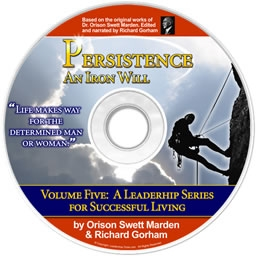 ---
Based on the original book first published in 1901, written by Dr. Orison Swett Marden. Re-edited and narrated by Richard Gorham.
"The development and discipline of one's will-power is of supreme importance in relation to one's overall success in life. No one can ever underestimate the power of an iron will. It is a part of our human nature, and the quality of our very existence depends upon it. "
– O.S. Marden
---
Chapter Titles Include: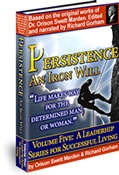 The Rulers Of Destiny
Force Of Will In Camp And Field
Will-Power In It's Relation To Health And Disease
The Romance Of Achievement Under Difficulties
Staying Power
The Degree of "O.O."
"It is not the amount of work that can be accomplished at a fever-pitch, stretched in all directions, but it is persistence of focus that keeps us at our best. It is the long, steady pull, the unconquerable purpose, the unbroken effort – that wins the battle of life."
– O.S. Marden
Excerpt: Persistence – An Iron Will
"There are no two words in the English language which stand out more boldly, like kings upon a checker-board, to so great an extent as the words 'I will.'
There is strength, depth and solidity, decision, confidence and power in these two little words. They bring determination, vigor and individuality, into any conversation.
The man who says 'I will' is a man who believes in his ability to triumph over difficulties, to gain victory in the face of discouragement. He possesses the will, the promise and strength to perform, unfettered aspirations, and is the master over a thousand and one human impulses that would otherwise impede his progress.
As one has well said: 'He who is silent is forgotten; he who does not advance falls back; and he who stops is overwhelmed, out-distanced and crushed. He who ceases to grow and develop, or to become greater – becomes smaller. The man who becomes stationary begins to deteriorate and eventually dies. Inactivity, is the beginning of the end — it precedes death.'
To live is to achieve, to press on, to persist without ceasing."