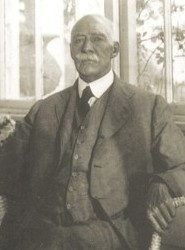 Leadership Insights!
FREE – SUBSCRIBE TODAY
The Leadership Insights newsletter is dedicated to providing our readers with news and updates, as well as regular doses of Dr. Marden's teachings for a happier and healthier life.
RECEIVE IMMEDIATE ACCESS TO A FREE GIFT
WHEN YOU SUBSCRIBE TODAY!
Our readers expect VALUE – and we deliver just that in each and every edition.
"The great use in reading is for self-discovery."
– Dr. Orison Swett Marden
What makes our newsletter so beneficial?
Simple. We keep each issue focused on providing you with impactful tools and information that is deserving of your time and consideration.
Each issue of Leadership Insights focuses on a key teaching of Dr. Orison Swett Marden, the true father of the American success movement of the late 1800's and early 1900's.
This newsletter is published once per month, or as the publisher deems necessary in order to keep readers fully informed about hey happenings. Rest assured, we don't send you mail, unless we have something important to share.
We take this conservative approach for two very important reasons:
We take our time to ensure every issue provides our readers with content that is rich in quality
We respect your time. Your time is valuable. We know that we have to be "that good" to be deserving of your time.
We are committed to exceeding your high expectations.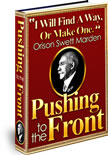 Subscribe today and begin receiving the Leadership Insights free newsletter – and immediately receive your FREE GIFT, an 800+ page ebook of Pushing To The Front.
Pushing To The Front is Dr. Marden's first and most notably work, many consider it – a masterpiece!
Once you begin reading the 100+ year old classic, you'll soon realize why Dr. Marden is still so highly regarded.