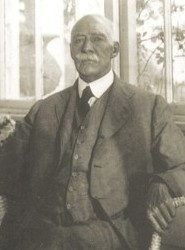 Pushing To The Front.. and beyond!
Testimonials
What Are People Saying?
TESTIMONIALS ON ORISON S. MARDEN
Ready to start Pushing To The Front?
Here is a sampling of the powerful testimonials that readers have shared about the quality and positive impact of Dr. Marden's teachings.
The following testimonials represent the high value of Marden's messages and the timeless wisdom provided within our product A Leadership Series for Successful Living.
"It is great to visit this site. Is a place where you feel that someone is trying to help you with ideas, when you need them the most. My love for Marden's books will never fade away! Thank you for this great opportunity to read the complete text of Pushing to the Front."
– Octavio Penaranda
"Great resource for leadership audio and insights!"
– Mark
"Excellent! My Father-in-Law gave me this book (Pushing To The Front) for Christmas a few years ago and I carry it with me to recharge my self determination and to help others; I even brought it to Kuwait while deployed for OIF."
– Daniel Harmuth
"I am taking over a company and finding this website and the information it holds, is an incredible boost to my confidence in being able to make this thing work!"
– Chris
"This is the best leadership site by far. It's great. Thank you very much for the free ebook, Pushing To The Front."
– Sabastian
"Excellent! A great site for ordinary people aspiring for greatness."
– Alfred
"Love it! I've recently discovered the works of Dr. Marden and am grateful for your site. Thank you. "
– Bob Armstrong
"I only visited your site a couple of times and got a very good impression. I plan come back again and explore more in detail what you have to offer. Thank you also for the book, it is really very nice of you to make such a gift – I appreciate it very much. I find Orison Swett Marden to be an excellent writer with many deep insights and I am looking forward to reading this masterpiece. By the way, I am from Slovenia, Europe."
– Danica Cvetco
"Excellent website that is generous enough to pass down an American treasure by Orison Swett Marden."
– Thiam Huat
"Thank you for your generosity and for helping the less fortunate to have an opportunity to read such a valuable book. May God always bless Dr. Marden."
– Thomas Jans
"This series encourages you to stop and say 'Yes, I can!'"
– Ranbir Bamrah
"Thank you so much for your excellent site. I hardly know ORISON SWETT MARDEN, but so far something within is telling me that I must read this book "PUSHING TO THE FRONT"
– Hari
"Thank you for providing such inspirational messages for improving yourself. I truly appreciate the free ebook, Pushing to the Front."
– Barbara Childs
"Easy to read, thoughtful, inspiring. Thank you for bringing this wonderful book to my attention. "
– Catherine R Fowler
"Thank you for a very informative site… well done!"
– Peter Howard
"Thank you for providing such excellent resources. This series is exactly the sort of tool that is neeeded to assist individuals in attaining life-long success. May you continue to be richly blessed as you have blessed and continue to bless so many others including myself. I am going to tell everyone I know about this site!"
– Brenda
"The information that is provided on this website is extremely beneficial and helpful in continuing the pursuit of developing leadership within myself and within those around me. Thanks!"
– Dana Coale
"I've been looking for a comprehensive, easy-to-understand site that deals with motivation and leadership and your site seems to fit my need."
– Arun Katiyar
"Very impressive, and a useful resource for all of us seeking to improve our personal circumstance. Pushing To The Front is a gem!"
– Clyde Franklin
If you have not yet taken advantage of our free ebook version of Pushing To The Front, please do so right away.
This amazing book provides a terrific introduction and preview to the powerful messages of Dr. Orison Swett Marden.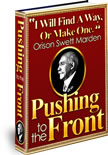 We know that once you get a taste of Pushing To The Front, you'll recognize the true value of our latest offering, A Leadership Series for Successful Living.
This professionally produced audio series was created as a tribute to the late Dr. Orison Swett Marden.